28 May 2021
Access the full text of the government's latest announcement regarding loosening of Covid-19 restrictions here.
Church services continue as at present, with a maximum of 50 people per church or per pod.
Wedding reception information:
From 7 June wedding receptions can have up to 25 people attending.
From 5 July wedding receptions can have up to 50 people attending.
From 2 August 2021 wedding receptions can have up to 100 people attending.
---
Covid-19 Resilience and Recovery: The Path Ahead
The latest government guidance (downloadable file above) is operative from 1 March 2021.
Phased easing of restrictions in April and May are outlined on the government's web pages here.
---
To help keep us all safe:
• Wash your hands frequently and thoroughly.
• Keep your distance.
• Use a face covering.
---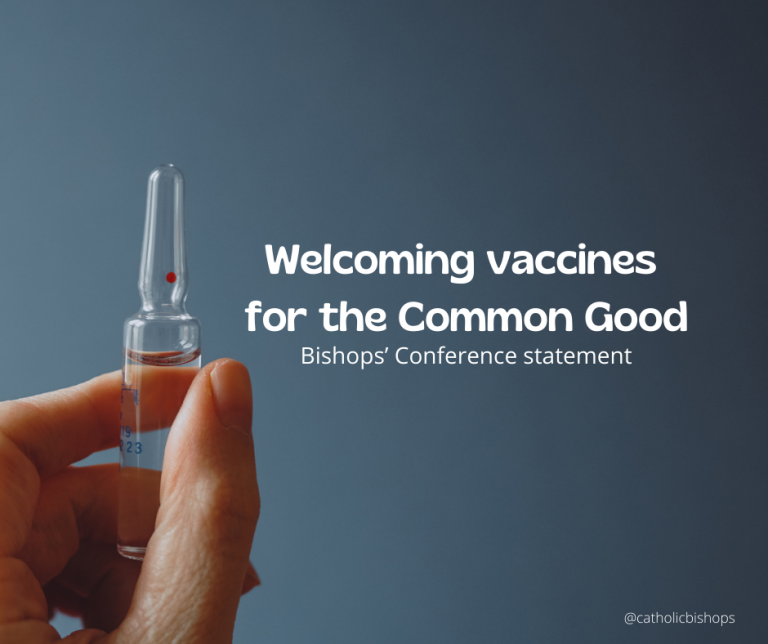 Bishops' Conference statement: Welcoming Vaccines for the Common Good
"The Irish Catholic Bishops' Conference welcomes the encouraging news that a number of vaccines for Covid-19 are at an advanced stage of preparation and are likely to be available for use in the near future. The Catholic Church recognises that safe and effective vaccination is an essential aspect of the prevention of disease. We are encouraging Catholics to support a programme of vaccination, not only for their own good, but for the protection of life and the health of those who are vulnerable and for the common good of humanity."
See the full statement here.
---
Resilience and Recovery 2020-2021: Plan for Living with COVID-19
Read about the government's plan, Resilience and Recovery 2020-2021: Plan for Living with COVID-19
The graphic below is available as a pdf here.

---
Training Modules for Parish Support Teams and Volunteers
Click here to access the diocesan YouTube channel (Diocese of Galway) for a suite of videos to help in the return to public pastoral life.
Alternatively, you can link to the individual videos below.
Covid-19 Hand Hygiene, Respiratory Etiquette and Physical Distancing
Covid-19 Use of Personal Protective Equipment
Covid-19 Communications and Signage
Covid-19 Distribution of Holy Communion
---
COVID-19 Public Health Guidance
For the most up-to-date HSE information on Covid-19, please see the HSE webpages here.
For signs and posters which might be useful for your church or office see these HSE webpages.
Video resources from the HSE:
• How to handwash with soap and water 
• Preventing the spread of infection: how to handwash with alcohol-based gel, and respiratory etiquette 
• How to safely put on and take off a medical mask with loops
---
Nothing can Separate us from the Love of God
The guidance document, Nothing Can Separate Us from the Love of God, incorporates the principles in the 'Framework Document for a Return to the Public Celebration of Mass and the Sacraments' published by the Irish Episcopal Conference.
Church personnel should at all times follow the most up-to-date public health advice and associated regulations and obligations, particularly in regard to limitations on gatherings, the requirements of physical distancing, hygiene and sanitation measures, and the use of personal protective equipment as appropriate. To reduce the risk of transmission of Covid-19, public health advice emphasises the importance of strict adherence to physical distancing, good hand hygiene and respiratory etiquette, and regular cleaning and sanitising of shared spaces.

It is most important that people who are unwell – and especially those with any symptoms that might suggest Covid-19 infection – should stay at home and if possible participate, as now, on webcam, social media or radio.