Diocesan Season of Creation Prayer Service 2022
Bishop Michael Duignan will preside at a special Season of Creation prayer service in Galway Cathedral at 7:30pm on Thursday 8 September.
We encourage everyone interested in praying and taking action for our common earth to attend. 
The service will include a talk by Nóirin Lynch, Director of the Faithful Companions of Jesus Spirituality House in Spanish Point. She says: "The Season of Creation's symbol of the burning bush reminds us that we share this earth with all living things.  We are responsible for the care of the planet and our actions are going to have a direct impact on the poor and on the next generations. Our spirituality must recognise the hand of God in all creation."
The service will include participation by children from local schools and parishes, and will be followed by bulb distribution and a tea/coffee reception.
We look forward to seeing you all in the Cathedral on 8 September!
The event is being supported by the Diocesan Laudato Si' Care for Creation Working Group.
---
This year's theme: "Listen to the Voice of Creation"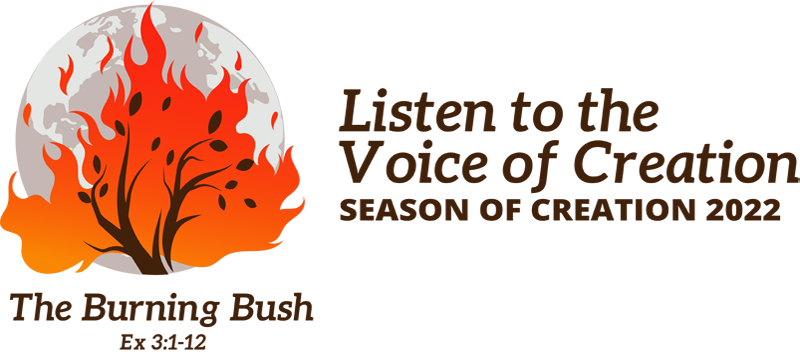 What is the Season of Creation? It's the annual Christian celebration of prayer and action for our common home.
The Season of Creation begins on 1 September (World Day of Prayer for the Care of Creation) and ends on 4 October (Feast of St Francis of Assisi).
The Season of Creation is a time to renew our relationship with our Creator and all creation through celebration and commitment to our common home. During the Season of Creation, we join our sisters and brothers in the ecumenical family in prayer and action for planet earth. We listen and respond to the cry of creation as one Christian community.
THE VOICE OF CREATION
---
Parish, school, and home resources for the Season of Creation are available at catholicbishops.ie/resources-for-the-season-of-creation-2022
---
Laudato Si'
Pope Francis' 2015 encyclical Laudato Si' issued an urgent challenge to the entire world "to protect our common home". He encouraged cultivating a deeper relationship with God's creation, alongside actions to address the multitude of ecological crises facing the planet, including climate change, deforestation and threats to biodiversity that jeopardize the survival of upward of one million plant and animal species.
To learn more, see www.galwaydiocese/laudato-si