Published on 15/07/2020
Category:
Family
,
Prayer
,
Spirituality
News image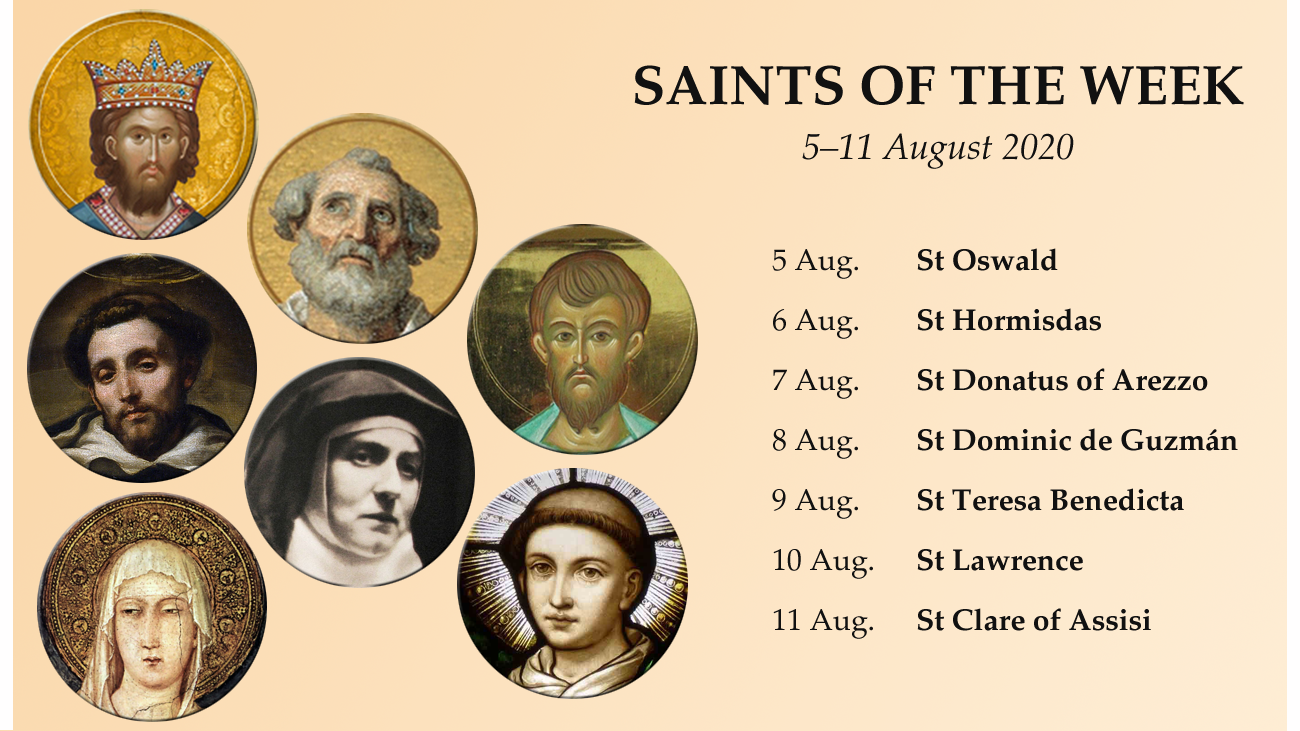 Body
5 August — St Oswald (604–c.642)
King of Northumbria and famous as a skilled warrior, but even more as a lover of peace. He worked to spread the faith, introducing Celtic Christian missionaries to his kingdom. At Oswald's invitation, St Aidan led a group of Irish monks from Iona to found a monastery and missionary bishopric for the kingdom at Lindisfarne. Oswald was venerated as a martyr of the Northumbrian church, and it was believed that his remains worked miracles.
---
6 August — Pope St Hormisdas (c.450–523)
He was married and widowed before receiving holy orders, and his son also became pope. One of his great achievements was the ending of the Acacian Schism which had divided the Eastern and Western Churches since 484. The Church in Constantinople was reunited to Rome in 519 as a result of a confession called the Formula of Hormisdas. This document was signed by Patriarch John of Constantinople and 250 Eastern bishops. Hormisdas also received Laurentian schismatics into the Church. 
---
7 August — St Donatus of Arezzo (4th century)
Educated in Rome. During the persecutions of Diocletian, he fled from Rome to Arezzo. His sanctity and education led to his election as the second bishop of Arezzo in 346. In 1125, some of Donatus' relics were brought to the Church of Santa Maria e San Donato on the island of Murano, near Venice.
---
8 August — St Dominic de Guzmán (1170–1221)
Castilian priest of a noble Spanish family and founder of the Order of Friars Preachers (Dominicans), a mendicant order with a universal mission of preaching, a centralized organization and government, and a great emphasis on scholarship.
---
9 August — St Teresa Benedicta of the Cross (1891–1942)
Edith Stein was a German Jewish philosopher who converted to Catholicism and became a Discalced Carmelite nun. Although she moved from Cologne in Germany to Echt in Holland, she was eventually arrested by the Nazis and died at Auschwitz in 1942. She was canonized as a martyr by Pope John Paul II and is one of six co-patron saints of Europe.
---
10 August — St Lawrence (225–258)
One of seven deacons of Rome, under Pope Sixtus II, who were martyred during the Christian persecution ordered by Emperor Valerian. The church built over his tomb became one of the seven principal churches in Rome and a favorite place for Roman pilgrimages. He is the patron saint of the poor and of cooks. 
---
11 August — St Clare of Assisi (1194–1253)
One of the first followers of Francis of Assisi. She founded the Order of Poor Ladies, a monastic religious order for women in the Franciscan tradition, and wrote their Rule of Life, the first set of monastic guidelines known to have been written by a woman. The canonization process for Clare began immediately after her death, and in 1255 Pope Alexander IV her as Saint Clare of Assisi. The Order of Poor Ladies was officially changed to the Order of Saint Clare in 1263 by Pope Urban IV.