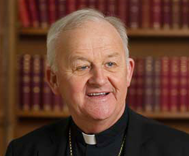 Occasional homilies from Bishop Brendan Kelly
Bishop Brendan Kelly preached the following sermons in Galway Cathedral on Friday 17 August 2018 at the funeral of Fr James Max Mitchell and Saturday 18 August 2018 at a Mass of reconcilliation and remembrance of the Maamtrasna murders.
---
17 August 2018: Funeral of Fr James (Max) Mitchell
Fr Max died peacefully and without fuss on the vigil of the great Harvest feast, Lá Fhéile Muire sa bhFomhair, the Assumption of Our Lady into heaven, the feast of the dedication of this Cathedral.
The gospel today is the gospel the church gives for that solemn feast of the Assumption.
The Assumption is a feast brim-full of Hope and reassurance about our destiny. Where Mary has gone, we hope to follow.
The story of the Visitation is a very simple and very beautiful story, rich in faith, in hope and in love: Faith: 'Blessed is she who believed…', Hope: 'that the promise made her by the Lord would be fulfilled', and Love: 'Mary went as quickly as she could to the hill country to help and support Elizabeth, and God has looked upon his lowly handmaid.
Rich too in joy, the child in the womb even 'leaping for joy'; and Mary's Magnificat, rich above all in praise and gratitude.
And I think it's true to say, that though there is sadness and loss at Fr Max's unexpectedly quick departure in the end, - and particularly for you his loved ones, - the dominant sense for us now is one of deepest gratitude for the long, fruitful and contented life with which he was blessed, and the positive and alert way in which he lived his every day, right to the end. Yes, his was a blessed life. Blessed too in long and faithful friendships – family, friends, colleagues in the diocese and in academic life, and none more so than Ann, blessed along with Sheila to be with him at the end.
He was also a very private man, who never sought limelight nor notice. However, he was a superb lecturer, kind and helpful always to his students, and quietly very generous with his resources He privately helped many people and supported many good causes.
Born on the 13th of Jan 1924, James Max Mitchell was ordained in Maynooth in 1948. His two uncles, Mgr Joe and Canon Michael were prominent priests in the diocese already. He returned to Maynooth and did post-graduate studies there for three years, gaining a Doctorate in Canon Law. History however, and local history in particular, was his great passion. Meticulously researched and judicious in his appraisals, his often long articles on aspects of the history of Galway and of the University appeared regularly in journals right through his life. On that very day he was taken to hospital, in one of his last lucid moments he was telling that the article he was completing for Martin Whelan and 'New Horizon' diocesan magazine was on his desk!
After his post graduate studies, he was appointed teacher in St Mary's College in 1951, and remained there till he gained a lectureship in the Education Department of what was then UCG in 1966. He remained there for 23 years till retirement in 1989. But he continued to teach for sometime after that in the University and was going there right to the end almost, diligently researching and writing. Seeking the true story, often debunking distortions and myths. He served and sought the truth above all else…a necessary, noble and holy pursuit. Though he spent his life somewhat outside the diocesan life of most of us priests, he wanted to hear all that was going on in the diocese, the news and even the gossip! Despite the academic discipline and rigour that marked his life, there was a lighter side and he had a great sense of humour. There was nothing dull about him, his friends will testify. As a teacher and lecturer he was kind and diligent, ordered and clear. He was discreet and direct in his comments. He inspected me as a student teacher in the classroom. Afterwards, his only comment to me was that if you say a prayer at the beginning of class, very much our practice in those days in Coláiste Éinde, then it must be said with care and not rushed! -A lesson I never forgot!!
So now, we commend Max to the Lord to whom he gave his life in the priesthood all of those 70 long years ago. It is for us who gather around him today in this Eucharist of farewell and of faith to give thanks to the Good God who gave him to us, and to this city and diocese that he served so faithfully all during his long life.
And now, with Mary Assumed into Heaven as our guide, we pray that Fr Max  be received into the eternal peace and joy of life eternal that we all hope for when our pilgrim journey on this earth is completed.
Suaimhneas síoraí tabhair dó, a Thiarna, agus go lonnra an solas bhuan mharathanch air. Faoi shíocháin chaoin i bhflaitheas na naomh go raibh sé. 
AMÉIN.
---
18 August 2018: Mass of Reconciliation and Remembrance of the Maamtrasna Murders
'Beidh tú in éineacht liom inniu i bparthas' - 'This day you will be with me in paradise'
There are no more beautiful words in all of Sacred Scripture. From Calvary to Paradise, crucifixion transformed to happiness and peace, death to new life…
Scéal iomlán na Críostaíochta!- This is the entire story of Jesus Christ and this is what Christian faith is…transformation, forgiveness, healing. Seo bonn agus barr an creidimh críostaí – athmhuintearais, leigheas, sonas síoraí.  [The Passover from death to life, crucifixion to Resurrection is the climax and summation of the life of Jesus Christ]
We come to Mass to celebrate and re-live these things…and so be renewed and restored in hope, peace and joy…paradise awaits us all.
The Holy Eucharist is the Passover of Jesus Christ, achieved for all who follow, and believe in him. Passover, life transformed, the horrific sin-steeped slavery and sin that is Calvary and the Cross to the healing, forgiveness, the peace and the joy of Paradise begun now and fulfilled beyond the grave. All that Jesus revealed in the Resurrection. 'He is not here. He is risen!' the women were told on finding the tomb empty.
Nothing is more important that forgiveness. To make the move out of slavery… There is an African proverb which says 'Not to forgive is to destroy the bridge that we might need ourselves'. It has taken 136 years for that poor man Maolra Seoighe to be exonerated…but the day has come…and we thank God for it.
The people of Israel took 40 long years of desert wandering before they at last had Egypt out of their system and entered the Promised Land
Johnny Joyce who wanted this mass for his murdered forbears wanted it equally for all the people who were caught up, on whatever side, innocent or guilty, in the unspeakable human atrocity and tragedy that was Maamtrasna in 1882. All of them impoverished. For this healing and transformation, we have gathered around the altar today. Remembering and renewing the great passage through the Cross and Calvary to the glory and joy of Resurrection. 'Christ has died, Christ is risen, Christ will come again'.
And, look where are we now as we celebrate? On the very site, in the very place where the three men who had been convicted of the murders were imprisoned and hanged, one of them entirely innocent. Surely for all three a Calvary, and particularly for the innocent one. Now at last, 136 years later, the terrible wrong done to Myles Joyce is in some way righted at last. Paradise, as it were, too long lost at last regained in some fashion. Like for the Israelites of old, the Passover at last achieved after the long years of slavery in Egypt and wandering in the desert.
The foundation story of the people of Israel, is that Exodus from the slavery of Egypt to the freedom of the land of Promise 'over-flowing with milk and honey'.
The foundation story of our Christian faith community is the Passover of Jesus Christ from the horrific travesty of the Crucifixion to Resurrection and New Life, from the slavery of sin and death to freedom and joy, reconciliation and peace.
Just as Galway gaol with its high walls, forbidding locked gates and harsh confinement for those within has passed over into this glorious Cathedral with its open doors, and no outside walls, house of God, centre of healing, forgiveness, freedom and peace.
We have gathered today freely, willingly, full of hope, some come from afar to ponder, commemorate, pray and yes, give thanks to God. We make Eucharist together for the sake of the poor people, your ancestors who suffered such terrible pain, and appalling injustice.
Go sábhálfaidh Mac Dé na Croise Ceásta muid fhéin agus ár sinnsir…sinsear uilig eachtraí uafáis agus éagóir Mhámtrasna…agus go dtabharfaidh sé neart dúinn in gcónaí coinneáil orainn ar bhóthar an athmhuintearais agus na síochana go sroisfimíd, go h-umhal bhuíoch, Parthas na ngrás. Trí Chríost ár dTiarna.
AMÉIN.