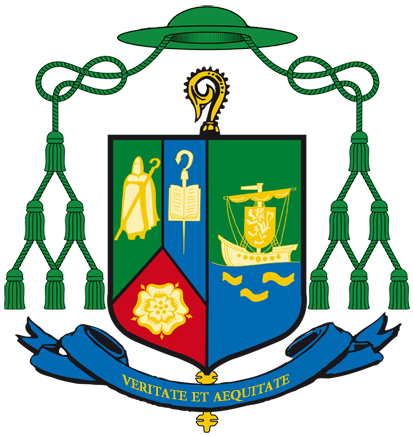 Galway is one of twenty-six Irish dioceses which are distributed among four ecclesiastical provinces: Armagh, Cashel, Dublin, and Tuam. The Tuam province includes Achonry, Clonfert, Elphin, Galway, Killala, and Tuam. The Diocese of Galway was established in 1831, and the parish chapel in Galway city became its pro-cathedral. The diocese of Kilmacduagh was joined with Galway in 1883, and the Bishop of Galway was made the Apostolic Administrator of Kilfenora. 
See the history of the diocese page for more information on how the diocese reached its present shape. The diocese does not follow county boundaries: it includes some of counties Clare and Mayo, and not all of county Galway is within the Galway diocese.
The Diocese is divided into five deaneries, for each of which a Vicar Forane (VF) is appointed by the bishop. The Vicars Forane exercise limited jurisdiction in the deanery on behalf of the bishop. A Vicar General (VG) is the principal deputy of the bishop as regards the exercise of administrative authority.
The Vicars General for Bishop Michael Duignan are Msgr Peter Rabbitte and Very Rev. Canon Ian O'Neill.
See the Cathedral page on this website and the Cathedral's own website for more information on the Cathedral.