Mass is live-streamed from the Cathedral at www.galwaycathedral.ie/webcam
See also Facebook at www.facebook.com/galwaycathedral and Youtube (search 'Galway Cathedral')
See lower down the page for full contact details and other information for the Franciscan Abbey.
W. www.franciscans.ie/friaries/galway
Please note the Abbey is not open for public Mass during the current Covid-19 restrictions.
---
Clergy
Very Rev. Monsignor Peter Rabbitte, PP, VF
Rev. John Gerard Acton, CC
Rev. Anastasius Ezenwata, CC
The Cathedral, Gaol Road, Galway
T. +353 (0)91 563577
E. info@galwaycathedral.ie
Parish Office
Secretary: Noreen Hanley
Office hours: Monday to Thursday 10.00am–1.00pm & 2.00pm–5.00pm; closed an hour earlier on Friday afternoons.
T. +353 (0)91 563577
E. info@galwaycathedral.ie
Parish newsletter submissions: newsletter@galwaycathedral.ie
W. www.galwaycathedral.ie
 
Cathedral Bookshop
Open Monday–Saturday, 09:30–13:00 and 14:00–17:30; open Sunday between morning Masses.
 
Sacred Music
Director of Music: Raymond O'Donnell
E. music@galwaycathedral.ie
W. www.galwaycathedral.ie/music
Summer concerts: recitals.galwaycathedral.ie
 
Sacrament of Reconciliation
Monday–Friday: 17:30–17:50
Saturday: 19:00–19:30
Sacrament of Baptism
Sundays at 13:30; four weeks notice required.
Adoration of the Blessed Sacrament
Monday–Friday: 11:30–18:00
Sunday: 13:30–18:00
Prayer for the Sick & Dying, with Vespers
Monday–Friday: 17:00–18:00
Novena in honour of Our Lady of Perpetual Help
Solemn Novena each February: see the Cathedral website.
Bethany Bereavement Support Group
The Bethany bereavement Support Group can be contacted in confidence on +353-85-2258827.
---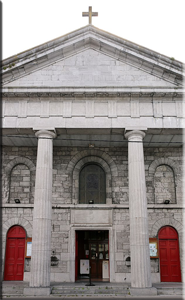 The parish of St Francis merged with the Cathedral parish ​on 1 March 2019. Requests for sacramental certificates should be addressed to the parish secretary in the Cathedral.
Clergy
Rev. David Collins OFM, Guardian
Rev. Brendan McGrath OFM, Vicar
Franciscan Abbey
8 Saint Francis Street, Galway
T. +353 (0)91 562518
E. galwayabbey@franciscans.ie
W. www.franciscans.ie/friaries/galway
For current arrangements for Mass, Confession and the Friary Office, please phone the Friary.
---
Sacrament of Reconciliation
Tuesday–Saturday: 10:00–12:30
Saturday 15:00–17:00
The Sacrament of Reconciliation is not celebrated during Mass.
 
Devotions
Padre Pio Prayer Group: third Tuesday of the month at 19:30
Saint Anthony: Tuesdays at 10:30
Secular Franciscans Order: first Thursday of the month at 10:30 Mass
Adoration of the Most Blessed Sacrament: Saturday 13:40–17:00
---
Schools
Primary School
Scoil an Linbh Íosa
St Francis Street, Galway
T. +353 (0)91 566452
Principal: Norena Jordan
 
Post-Primary Schools
St Joseph's Secondary School (The Bish)
Nuns Island, Galway
T. +353 (0)91 565980
Principal: John Madden
St Joseph's Special School
Thomas Hynes Road, Newcastle, Galway
T. +353 (0)91 521895
Principal: Sarah McGinley
Our Lady's College
Presentation Road, Galway
T. +353 (0)91 563495
Principal: Clíona Ní Néill
Coláiste Muire Máthair
St Mary's Road, Galway
Principal: Betty Hernon
T. +353 (0)91 522369
E. info@cmmg.ie
W. www.cmmg.ie