Mass is broadcast on 105 FM radio in the Ennistymon area.
Also Facebook: 'Ennistymon Parish Clare'
---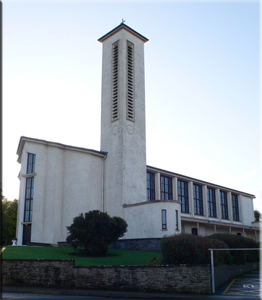 Note: All sacraments and devotions are impacted by Covid-19 restrictions. Check with the parish for the most up-to-date information.
Clergy
Very Rev. William Cummins, PP
Ennistymon, Co Clare
T. +353 (0)65 7071063
E. ennistymon@parishes.galwaydiocese.ie
Rev. Des Forde, CC
Curate's House, Sea Park, Lahinch, Co. Clare
T. + 353 (0)65 7081307
E. desforde@icloud.com
Parish Office
Office hours:Tuesday–Thursday 9:00am–3:30pm
T. +353 (0)65 7072053
E. ennistymon@parishes.galwaydiocese.ie
Sacrament of Reconciliation
On request.
Sacrament of Baptism & Marriage
On request.
Devotions
Our Lady & St Michael, Ennistymon: weekly Mother of Perpetual Help devotions on Friday at 7:00pm
Eucharistic Adoration
Our Lady & St Michael, Ennistymon: Sunday 4:00pm–5:00pm; Thursday after 7:00pm Mass until 9:00pm
Immaculate Conception, Lahinch: Monday after 10:00am Mass until 11:30am
St Columba, Clouna: Wednesday 8:00pm–9:00pm
 
Parish Groups
Secretary (Fás), Sacristans, Choir in Clouna & Lahinch, Lahinch Daily Rosary Group,Transition Year Students Co-ordinator, Church cleaners (Fás), Weekly Newsletter, Community Centre, Vincent de Paul, A.A. Meetings in Ennistymon Church (Nun's Chapel), Eucharistic Adorers, Eucharistic Ministers, Ennistymon Community Hospital, Pastoral Group, Finance Group, Child Protection Co-ordinator, Liturgy Group, Parish Mass broadcast & Funeral Group.
---
Schools
Christian Brothers Secondary School
Ennistymon, Co. Clare
T. +353 (0)65 7071349
Principal: Mary Lyons
Convent of Mercy Secondary School
Ennistymon, Co. Clare
T. +353 (0)65 7071224
Principal: Seosaimhaín Uí Dhomhnallain
Scoil Mhainchin
Ennistymon, Co. Clare
T. +353 (0)65 7071022
Principal: Helen Sheridan
Scoil Cholmcille
Clouna, Ennistymon, Co. Clare
T. +353- (0)6 7071949
Principal: Éadaoin Ryan
Scoil Mhichíl
Furglan, Ennistymon, Co. Clare
T. +353 (0)65 7071979
Principal: Patricia Vaughan
Scoil Mhuire
Lahinch, Co. Clare
T. +353 (0)65 7081267
Principal: Helen Nolan
Vocational School
Ennistymon, Co. Clare
T. +353 (0)65 7071058
Principal: Elizabeth Flanagan