Synthesis of the consultation in Ireland for the diocesan stage of the Universal Synod 2021–2023
— National synthesis of synodal process published during Mass celebrated by Bishop Michael Router at Knock Novena —
Download the full document here.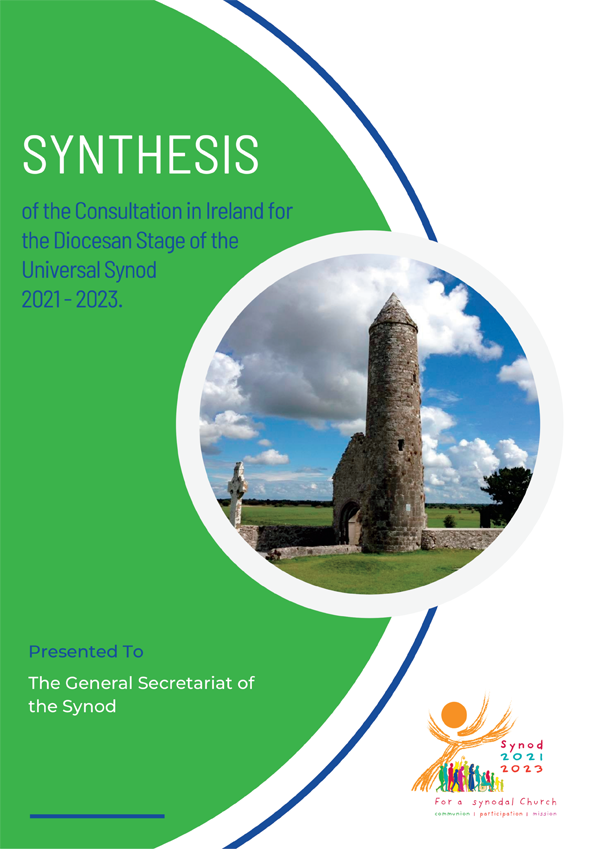 "Important questions have been set out for deeper reflection and pastoral action at every level of Church life, and there will be many more opportunities for people to get involved and help shape this process"
– Dr Nicola Brady
A significant milestone in the synodal process currently underway in the Catholic Church in Ireland is the publication of the national synthesis of local listening that took place in dioceses and other contexts between October 2021 and May 2022. This national synthesis has now been submitted to the Synod Secretariat in the Vatican as part of the global synodal process announced by Pope Francis for the Church, running from 2021 to 2023 with the theme 'For a Synodal Church – Communion, Participation, Mission'. The national synthesis will be published on www.synod.ie.
The completion of this important phase in both the national and universal synod process was marked with Mass as part of the annual Novena in Knock Shrine, which this year took the theme 'A Journey of Hope'.  The Mass was celebrated by Bishop Michael Router, Auxiliary Bishop of Armagh and a member of the Synod Steering Committee. Committee Chair Dr Nicola Brady gave an address reflecting on the synodal experience in Ireland to date.
Reflecting on the process to date, Bishop Router said: "As we publish the synthesis of the consultation in Ireland for the Universal Synod, I wish to express my thanks to the thousands of people nationwide who took the time to respond and to make their voice heard. In reading the varied responses gathered in the Archdiocese of Armagh, and the completed national synthesis, I was struck by the pervasive desire to feel a deeper sense of belonging to the Church and the call for it to be more inclusive. I pray that this relaunching of the synodal way will help people to realise that we are all part of a community of sinners walking together on the road, supporting and helping each other as we strive to live as Jesus Christ wants us to. May everyone appreciate that they are loved by God, and regardless of their circumstances, find a welcome in his Church."
Inviting people to read the national synthesis, Nicola Brady said: "We invite everyone to read the national synthesis and reflect on what we are called to do, as individuals and as a church community, as a result of what we have heard. The issues raised are not new, but the honesty and clarity with which they have been articulated in this process, and the relational approach that has characterised the work to date, offers a strong foundation to build upon. Some of the findings are stark, many of the experiences shared are painful, but there have also been many hopeful and encouraging aspects, notably the importance many people have placed on this process and the skills and experience we will take forward into the subsequent phases of this work. Important questions have been set out for deeper reflection and pastoral action at every level of Church life and there will be many more opportunities for people to get involved and help shape this process."
---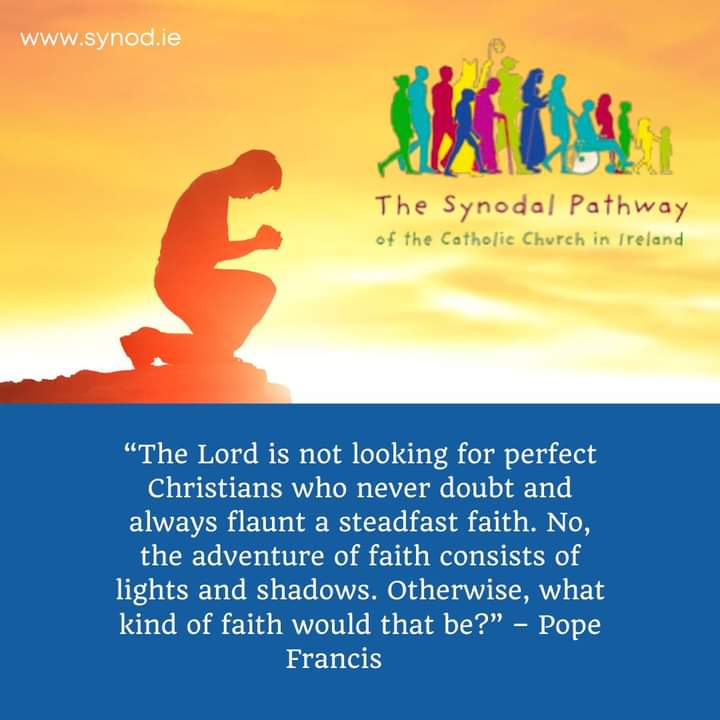 Synod is a Greek word (synodos) meaning a meeting or assembly. By convening the Universal Synod, Pope Francis invites the entire Church to reflect on a theme that is decisive for its life and mission.
In recent months the Galway Diocesan Synodal Team has reached out to parishes and to people within and without the faithful community, to listen and hear what they had to say.
The results of this listening is available now in the 10-page diocesan document below, along with the separate appendices information.
---
''No-one can be excluded.'' — Pope Francis

Pope Francis is asking the Church to listen to every voice in the community – laity, disenfranchised, religious – each and all who have a view to offer.
We aspire "to plant dreams ... allow hope to flourish, inspire trust, bind up wounds, weave together relationships, awaken a dawn of hope, learn from one another, and create a bright resourcefulness that will enlighten minds [and] warm hearts..." (Pope Francis, address of 3 October 2018).
The synodal mission:
   — Humility in listening;
   — Courage in speaking;
   — An invitation to dialogue.
We come together to listen to each other, and enter into dialogue in order that we will change.
For further information on the synodal process, see synod.ie