---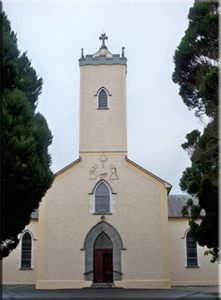 Note: All sacraments and devotions are impacted by Covid-19 restrictions. Check with the parish for the most up-to-date information.
Clergy
Very Rev. Derek Canon Feeney, PP
Craughwell, Co Galway
T. +353 (0)91 846057
Parish Office
Secretary: Luisa Carty
Office hours: Wednesday & Thursday 3:30pm–6:00pm
T. + 353 (0)91 846006
E. craughwell@parishes.galwaydiocese.ie
 
Sacrament of Reconciliation
Craughwell: Saturday 11:00–12:00
Ballymana: Saturday 17:00–17:45
Sacrament of Baptism
Last Sunday of each month.
 
Parish Hall
St Michael's Hall, Craughwell.
---
Schools
Ballymana National School
Ballymana, Co. Galway
T. +353 (0)91 846361
Principal: Tom Hickey
Craughwell National School
Craughwell, Co. Galway
T. +353 (0)91 846246
Principal: Liam Mitchell