Published on 08/07/2020
Category:
Family
,
Parish
News image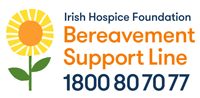 Body
Are you finding it difficult to cope with a pre-Covid bereavement?

Would it help to talk to someone in confidence about your loss?
Tel. 1800 80 70 77

The Irish Hospice Foundation Bereavement Support Line is a national freephone service, available 10.00am to 1.00pm, Monday to Friday. The line aims to provide comfort and emotional support.