Published on 22/03/2021
News image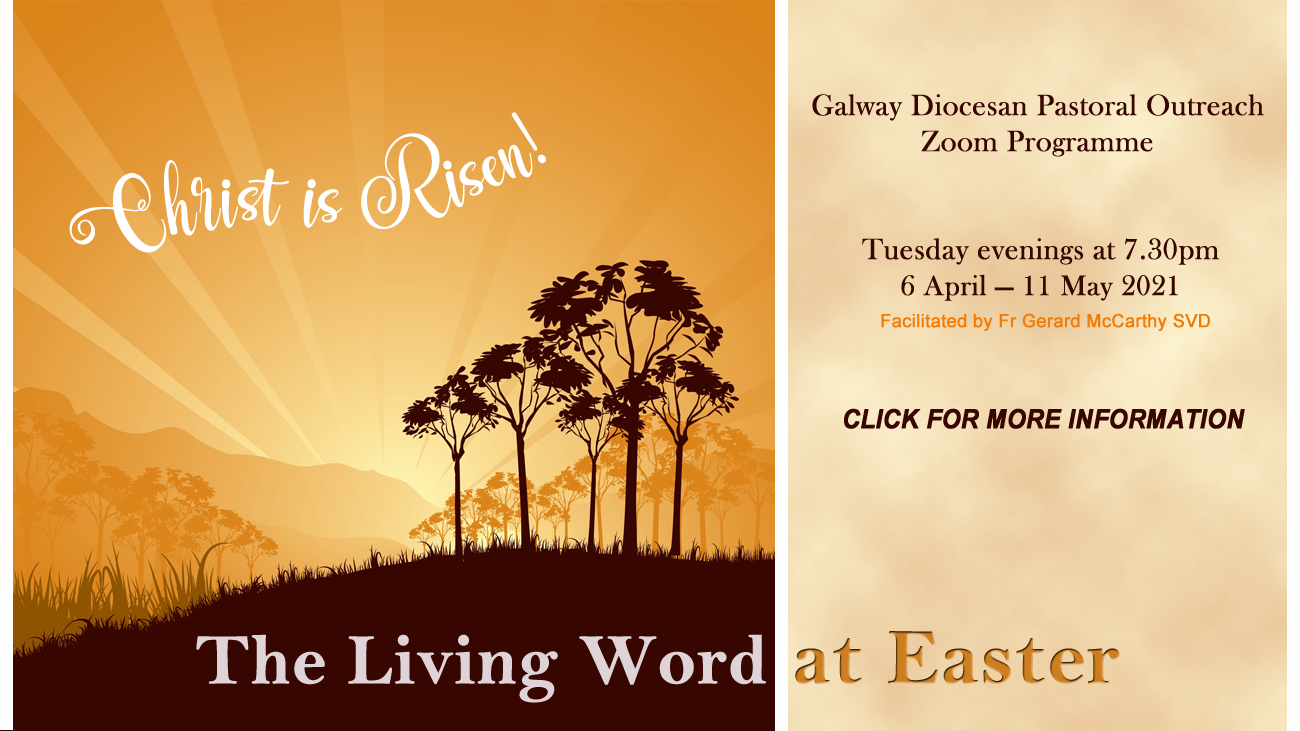 Body
The Living Word at Easter
Galway Diocesan Pastoral Outreach Zoom Programme
In Lent we journeyed through the Passion narrative in Mark's Gospel. However, we must never forget that God's plan for Jesus was always resurrection! Paul reminded the early Christians that we preach Christ crucified AND risen.
For six Tuesday evenings online, beginning on Easter Tuesday, we continue our journey with the Risen Christ by focusing on the Easter Gospel passages in all four Gospels. Don't worry if you were not able to join us  during Lent; join us now and discover how the Resurrection changed everything for those first followers of Jesus and experience the impact that it can have on our own lives, on our own faith journey.
These are not 'academic' evenings, but an opportunity to grow in our understanding of God's word and how it can transform our lives.
The sessions will be facilitated by Fr Gerard McCarthy SVD. There will be time for questions and discussion in each session. Scripture texts and supporting material will be provided.
The course runs online via Zoom for six Tuesday evenings from 6 April to 11 May 2021.
| | |
| --- | --- |
| Date | Session Title |
| 7.30pm Tuesday 6 April | 'The First Easter Morning' |
| 7.30pm Tuesday 13 April | 'He's going before you into Galilee' |
| 7.30pm Tuesday 20 April | 'The Road to Emmaus' |
| 7.30pm Tuesday 27 April | 'Peace be with you' |
| 7.30pm Tuesday 4 May | 'Magdalene and Doubting Thomas' |
| 7.30pm Tuesday 11 May | 'A Question of Love' |

Are you interested?
Just drop an email to pastoral@galwaydiocese.ie and we will send you a link to the Zoom meeting platform.
These sessions are free of charge, but if you would like to make a donation towards costs, click here to access the diocesan iDonate system and select 'Scripture Courses' when you reach the "Which Parish are you Donating to?" screen.