Published on 13/09/2022
Body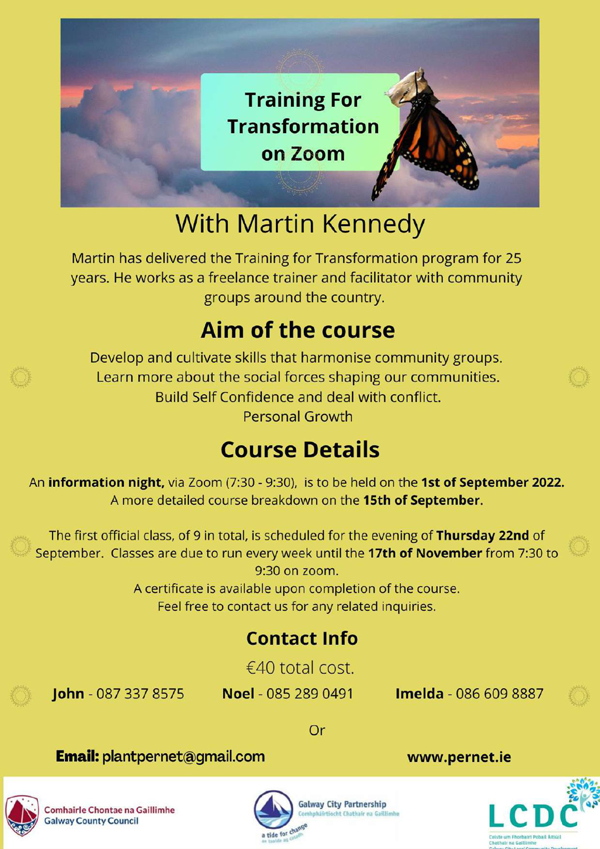 Partners Training For Transformation is a learning process for community leaders and others interested in social transformation.
This information is taken from trainingfortransformation.ie/courses/training-for-transformation:
"Training for Transformation is about learning to transform ourselves, our communities and our society into sources of justice and equality. The programme is an immersion in participative and experiential learning."
The next "Training for Transformation" course will run from 22 September to 17 November. 
The course aims to cultivate skills that help to harmonise community groups, build self-confidence, deal with conflict, and transform communities into sources of justice and equality.
Full details at www.pernet.ie, email plantpernet@gmail.com, or tel. Noel at 085 2890491.

"ABOUT the course:
1) Personal
Creating the transformation we need to enhance our personal confidence, competence and commitment. The course offers opportunities to better understand ourselves and the approach we take to the work. It offers opportunities to strengthen our motivation and passion for creating a better world. It offers personal skills in key areas such as listening, conflict management or problem solving.
2) Interpersonal
Creating transformation means working with others. The programme offers opportunities to learn about groups, teamwork, organisational development, dialogue, building social movements and other aspects of collaboration for change.
3) Wider Society
Creating transformation means engaging with institutions that create and maintain injustices and inequalities. This programme offers opportunities to better understand social, political and cultural systems and how we can constructively engage with them."