Published on 02/06/2020
Category:
Family
,
Liturgy
,
Parish
,
Prayer
,
Spirituality
News image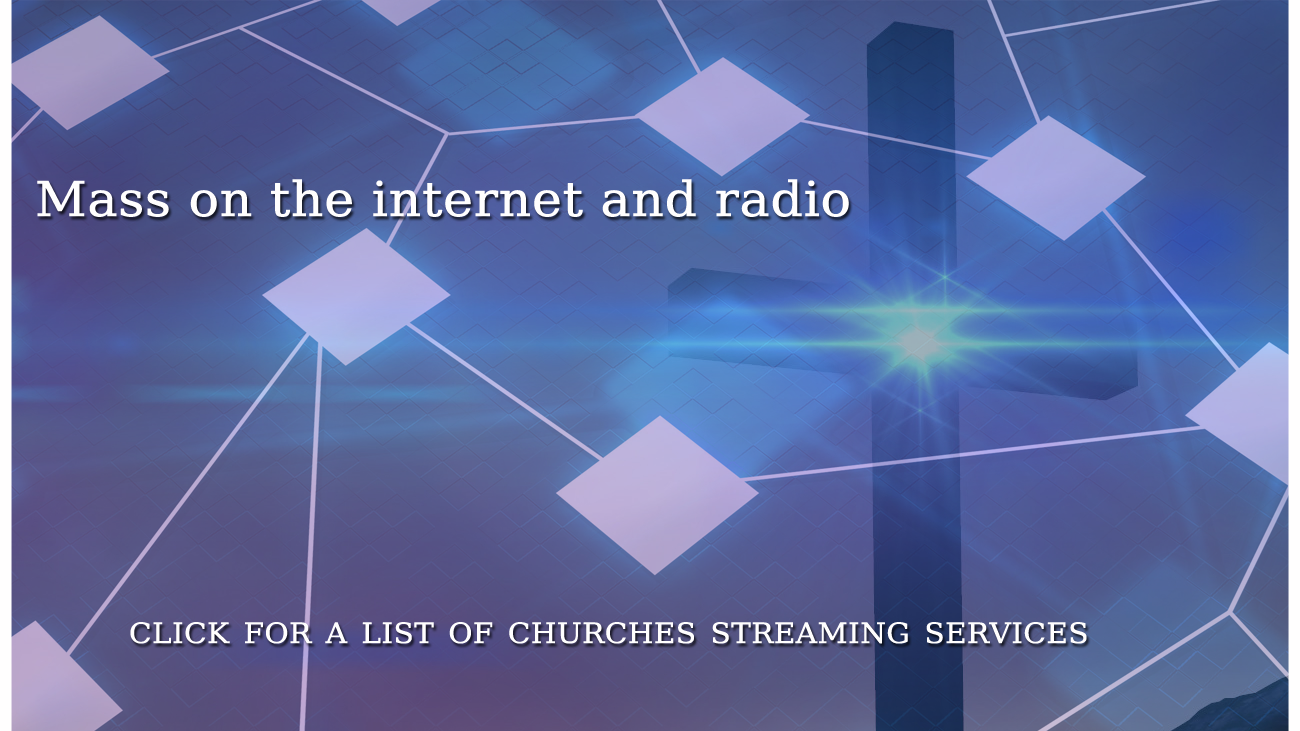 Body
Parishes with live-stream, radio, or Facebook Masses
Note that webcams should only be 'live' while Mass is being celebrated, so there may not be any image on the camera feed until shortly before the liturgy is due to begin.
FM radio broadcasts are local and only cover the parish area.

GALWAY CITY DEANERY
• Cathedral – Galway cathedral is livestreaming 11.00am and 6.00pm Mass daily via webcam at www.galwaycathedral.ie/webcam; also available on www.youtube.com (search 'Mass at Galway Cathedral'), and through the cathedral Facebook page, www.facebook.com/galwaycathedral. Irish Mass is available on Sundays at 9.00am.
• Knocknacarra – see www.knocknacarraparish.ie to access a webcam which is live for daily Masses at
   9.30am and 7.00pm, and for all Sunday Masses. 
   Also on radio at 102.8 FM.
• Renmore – www.mcnmedia.tv/camera/st-oliver-plunkett-renmore

• St Mary on the Hill, Claddagh – see www.dominicanscladdagh.ie/live-webcam

• Sacred Heart parish – streaming via Tauary Tapajos on Facebook; daily Mass Monday to Friday at
   10.00am, Sunday at 11.30am, and Brazilian Mass on Saturday at 6.30pm. 
GALWAY RURAL DEANERY
• Bearna – livestream liturgies at barna-church-webcam.click2stream.com and on radio at 106.6 FM.
   Click here for times for Mass and other liturgies in Bearna.
• Claregalway – Masses broadcast on 106.4 FM radio in the Claregalway area.
• Moycullen – see moycullenparish.com to access a webcam for live-streamed Mass.
  Additionally for the month of May, rosary and healing prayers are live-streamed every evening at 7.00pm.
• Shrule – Masses broadcast on 101.4 FM radio in the Shrule area. Weekend Masses are also on Facebook: www.facebook.com/sruthair
• An Spidéal – Aifreann i nGaeilge chuile lá den seachtain ó Chill Éinde, An Spidéal: Luan–Aoine ag 10.00r.n., Dé Sathairn ag 6.00i.n. agus Dé Domhnaigh ag 11.00r.n. Nasc ar fáil ag www.cilleinde.ie
 
KILMACDUAGH DEANERY
• Ardrahan/Kilchreest – see ardrahan-kilchreest.com/web-camera

• Ballinderreen & Kinvara – see www.facebook.com/ballinderreenandkinvaraparishes
RTÉ
RTÉ NewsNow can be accessed on Saorview Channel 21; Sky 521; Virgin 200; Eir 517, and also via its own website, free app and via the RTÉ Player, where this content will also be available after the initial transmission.
RADIO MARIA
Mass is broadcast daily at 10.00am from Radio Maria's studio chapel in Dublin, for those who would like to tune in.
 
VATICAN TELEVISION
Pope Francis has arranged for his celebration of Mass to be televised from the Vatican. The broadcast is simultaneously translated into the English language.
https://www.vaticannews.va/en.html
 
EWTN
Eternal Word Television Network is a Catholic television station which broadcasts from the USA. Some programmes are produced or presented by Irish priests and religious, including daily Mass.  EWTN is available on Sky TV and free to view online at:
https://www.ewtnireland.com
https://www.ewtnireland.com/television
https://www.ewtnireland.com/contact
 
Shalom TV
Is a Catholic television station which broadcasts live from Rome including daily Mass celebrated by Pope Francis. It is available free to view on some digital television networks and via the internet. Please see http://www.shalomworld.ie